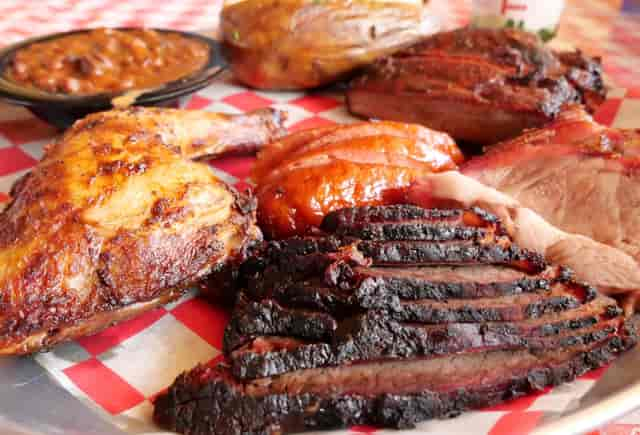 Facts & Catering Policies
We provide everything from start to finish. Buffet tables with all the equipment to keep your BBQ hot. Tender meats sliced right on-site, fresh homemade side dishes, refreshing beverages, & delicious desserts. Bennett's friendly, professional staff will take care of it all!!

For personalized quotes for your event, or help with any questions you may have, Request Catering Info.
Bennett's Wedding Catering
Planning for your big day?
Serve delicious food your guests will talk about for years to come!! From backyard nuptials to full-service event venues, Bennett's does it all!! Call today for more information.
Tents, Tables & Chair Rentals
Need event rentals? We can help! Call us today for personalized pricing of rental items for your event
FAQ & Catering Policies
Q: How much notice is required to book an event?
A: Bennett's BBQ is quite popular with the locals so we suggest you give us as much notice as possible to get your date booked on our calendar. Short notice events will be accommodated based on availability.
(24-48 hour notice requested, but we've been known to bend the rules)
Q: What is the minimum order for delivery?
A: We do require a $150 order for us to deliver. If you have a smaller group that does not meet the minimum, we can arrange a pick-up of some delicious BBQ at one of our Denver area locations!
Q: When do I have to turn in my final guest count?
A: We understand that collecting RVSP's can be near impossible, however, to ensure we prepare enough mouth waterin' BBQ to feed your crowd, we need to have a final number no later than 3 business days prior to your scheduled event. Need to add an extra 10 or 110?? Give us a call, and we'll do our best to accommodate your request!
Q: What if I need to cancel my event?
A: Even though your guests will be terribly disappointed, we do know that plans change. We do have a 48-hour cancellation policy, so please give us the heads-up as soon as you know you won't be using our services. If you do have to cancel less than 48-hours before the scheduled event, there will be a 35% fee. This cancellation policy also applies to weather-related cancelations (so don't plan your BBQ outdoors in January!) If you do have to cancel on the day of the event, the fee will be up to 100% of the total, again, left to the management's discretion. If you have any questions about our policies, please clarify the information with your catering salesperson.
Q: Do you require a deposit?
A: Normal catering & delivery events do not require a deposit. However, there are some exceptions to the rule. Starting in January 2020, we are requiring a credit card to hold your date and services and you will be required to pay in full the day of the event. Weddings do require a deposit when booking, and payment in full is due 10 days before the date. For detailed wedding information, please contact the sales office directly. Private Parties do require a credit card number to hold the date.
Q: What methods of payment do you accept?
A: All major credit cards, checks, and cash are all accepted for payments on catering and delivery events and are due on the day of the event. If you are a business, please speak with your salesperson if you require us to invoice you for the event.

For Non-profit groups who wish to claim tax exemption on your event, Bennett's BBQ REQUIRES a specific tax exemption form to be completed no less than 48 hours before your event.
Q: What is the recommended gratuity for an event?
A: Gratuity is always left to the discretion of the customer. We believe that gratuity should reflect your satisfaction with our service during your event. Generally, we recommend 18%-20%. Weddings will have the gratuity already included since payment is required before the event. If you would like us to calculate the gratuity for you, please let your salesperson know, and they will be happy to help you out.